Logo Creation.
Logo design for a local esthetician's educational resource site, Field Guide To Skin Care.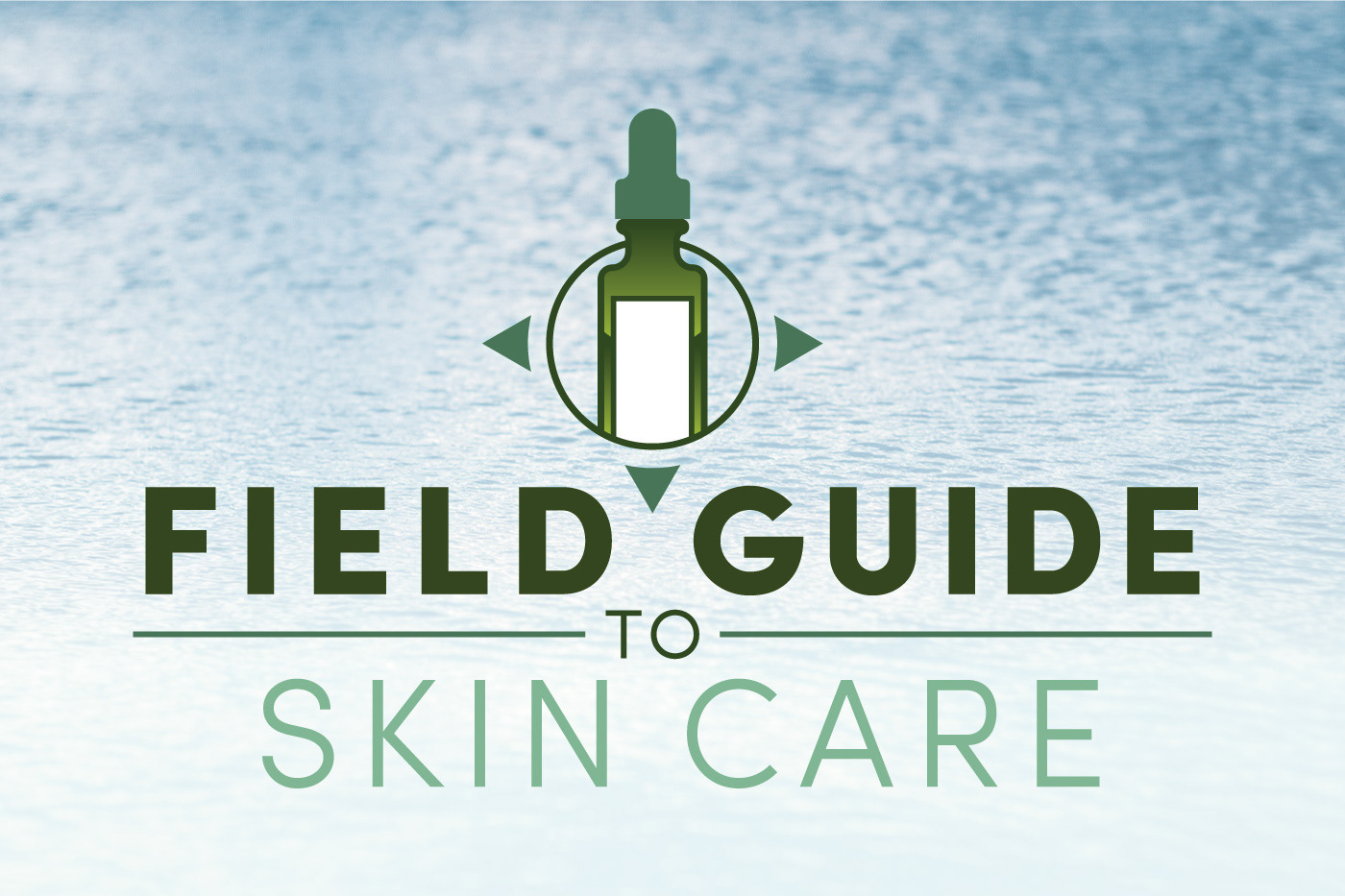 Jessica Scaglione is a local esthetician in Austin, TX currently starting a new online educational resource aimed at providing the public with information on skin care. Through educational content, Jess is creating a space online titled "Field Guide To Skin Care", where people can learn the importance of maintaining their skin properly for positive health. She asked me to help create a logo for her site that is inspired by her youth in Girl Scouts and her current passion for skin care, mentioning the different field guides she was exposed to during her youth as a major inspiration. In our initial meeting we discussed the overall look of her logo and what she is aiming for in its look and feel. The graphics within the skin care industry are usually very sharp and clean and as such, was her main focus of the logo. She then wanted to include a compass to tie into her Girl Scouts roots. The rest was up to me.
I took notes during our first meeting, asking questions about her industry, her goals for the site, her time in girl scouts, and so on. This helped me understand her background more and allowed me to step into her mind a bit during the brainstorming and thumbnail process. Through these notes, I was able to pull out and highlight important aspects that will fit the aesthetics of her new brand. I played with traditional compasses as well as modern digital location icons attempting to make a bridge between old and new technologies. I then did research on different aspects of the skin care industry, something very new and unfamiliar to me, to find a representation of skin care to combine with the compass. I filled an entire page of icons and logo ideas using everything from lotion bottles to birds to hands and more.
The first logos integrated compass/location icons with skin care bottles. Colors were open-ended at this stage with the only guidance being something "earthy" and "nature-driven". I took inspiration from the National Parks logo for color schemes as it fits that idea perfectly. I picked a mix of heavy and lightweight sans serif fonts to keep things clean and legible. Jess and I met up again and she found something she loved among the vector vomit I showed her. The colors, however, needed changing and I agreed having further discussed her ideas. I continued to develop her logo noting that we may have to go through color schemes more than once.
We attempted to stick to greens and browns but it still felt to much "field guide" and not enough "skin care". The main focus of the online resource is skin care, so that needed to be the most important part in her logo. Eventually, she suggested greens & sea foam colors and I knew we found a winner once I had that guidance. Sometimes, you have to show a client a lot of examples of things they don't want to help them find what they do want. The rest of the logo came together smoothly from here.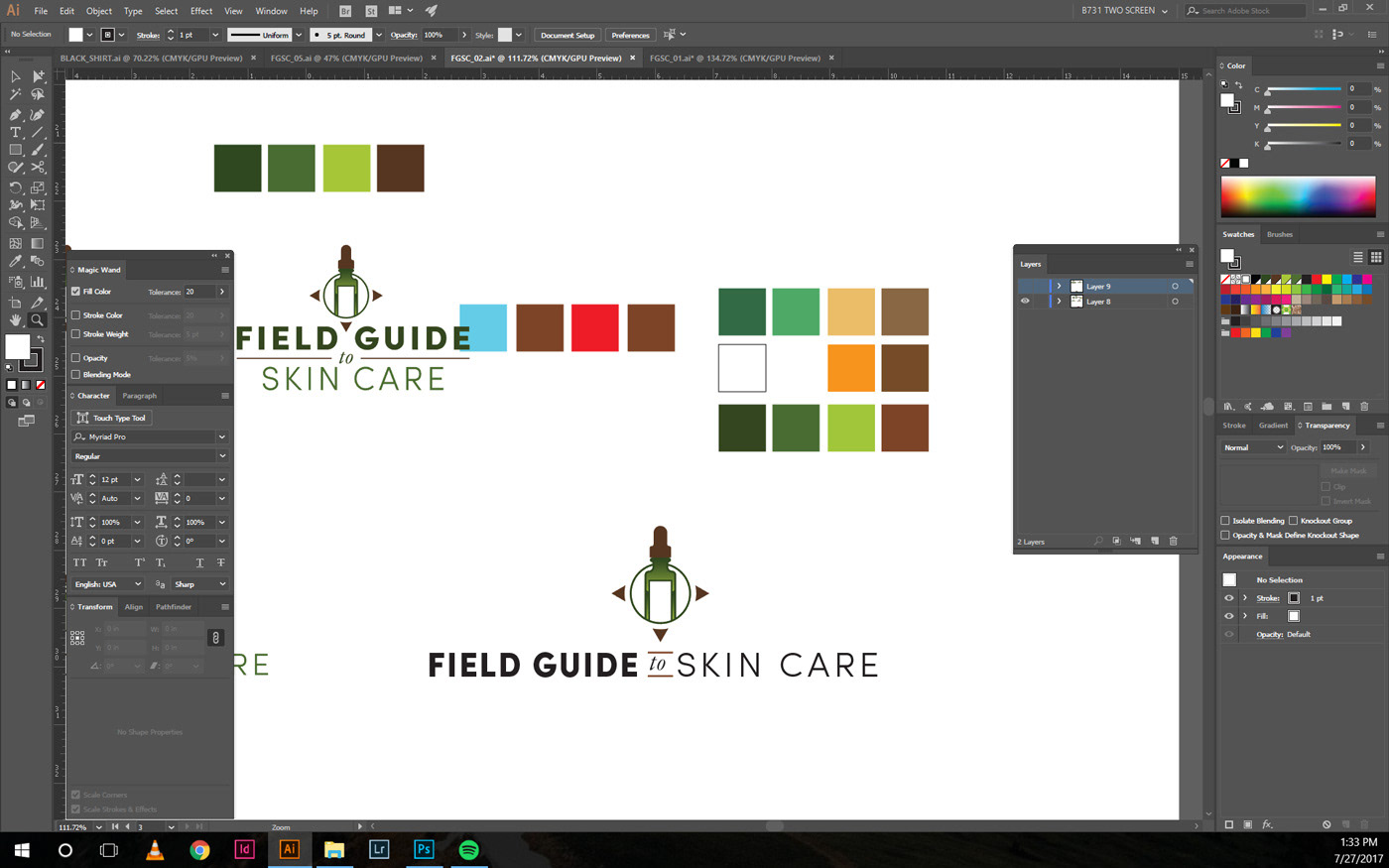 I split the vial to include some gradients to further emphasize the clean & sharp look of the skin care industry and then cleaned up the layout a bit. From here it was just a matter of kerning and tracking, tightening everything up and finding balance to all of the weights of the entire piece. I created options for an icon,  a stacked logo for beefy/boxy applications, and a full horizontal logo good for headers, footers, etc. The finished product came out great and the final colors fit her goals and industry quite well. I created a branding guidelines style sheet as well to help her visualize the different uses for her logo. I am looking forward to seeing Jess's site come to life in the near future and will likely stay on as a design consultant during its creation.
For those of you interested in having custom & innovative design work created for
your brand, business, band, etc., please contact me: