Package Stamp.
A stamp design for Awake & Moving to brand outgoing mail.
What started out as a class assignment for Aaron Draplin's
"Circular Logo Design"
 quickly became a more functional than academic piece. Before creating this piece, I knew I wanted a more different application for the design and not just another sticker. The assignment for Draplin's class is geared toward designing a travel sticker, but I decided I wanted to make a stamp instead. I print enough stickers of my illustrations and designs for myself and for Awake & Moving, so I wanted to create something that would lend itself to the customer's experience of the brand instead. Something a bit more visceral. I had envisioned a passport stamp-like piece when I began the sketch process and once I realized I was making an actual big & beefy stamp, the juju was in complete flow.
Grabbing some Field Notes and a pencil, I began throwing ideas onto the paper. I started with the Awake & Moving logo as the center and built type around it. I have been wanting to use trees or mountains in something for
Awake & Moving
for a long time and tried incorporating some of those ideas during this stage as well. I soon realized, though, that I wanted this design to be a bit more on the utilitarian versus aesthetic side, and just went with my first gut instinct of centered logo surrounded by type. It can be tricky finding that balance between appearance and function in projects like this and that's what I love about them! A good challenge always yields some kind of growth.
The assignment has students creating an "If lost..." type of sticker, but I didn't need another address label. To replace contact information, I utilized different hashtags and mantras from the brand in the type portion of the design. During this computer phase, I was inspired to take a few cracks at some square, blocky designs that could be used for something else later on. You have to get the ideas down when they come, even if it clutters your artboard or project. I eventually put the blocky designs into another Illustrator file for future exploration & use.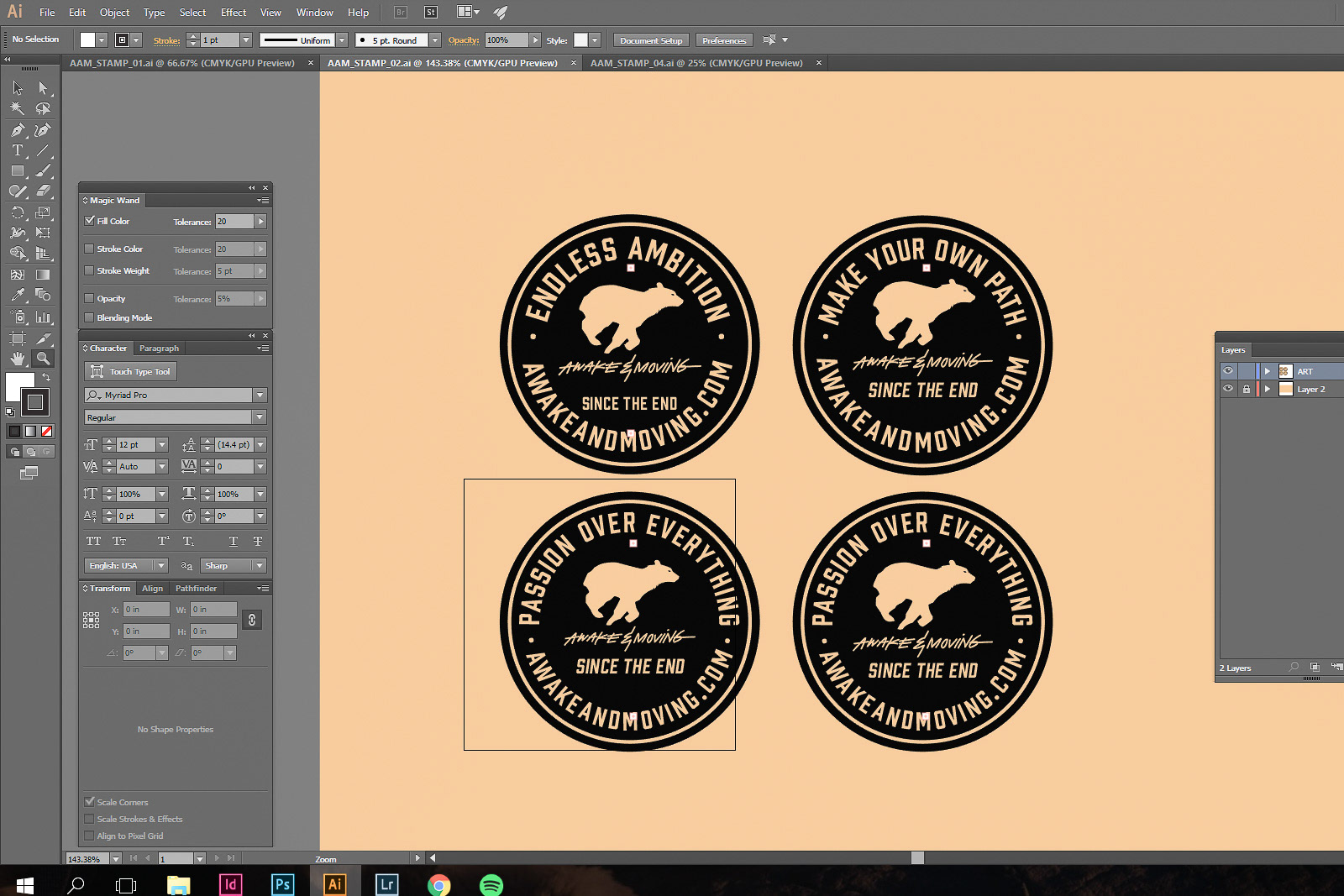 I settled on three designs (the bottom two are the same with slightly different logo sizes) and then picked one. After contacting a local stamp maker, they advised me to invert the design as the initial black-heavy circle would be difficult to cut, creating pools of ink anytime I used the stamp in the letters because of their small size. Taking the shop's professional advice as I know nothing of stamp-making, I created a final design with the positive and negative spaces inverted and put it into production. The stamp came out great weighing in at a whopping three inches in diameter. The stamp has since been used on packaging, on packing slips, and in other areas of operation for the business.
For those of you interested in having custom & innovative design work created for
your band, business, brand, etc., please contact me: