Verbal Darts
A CD cover design for Blazy of the hip hop collective,

The Vultures

.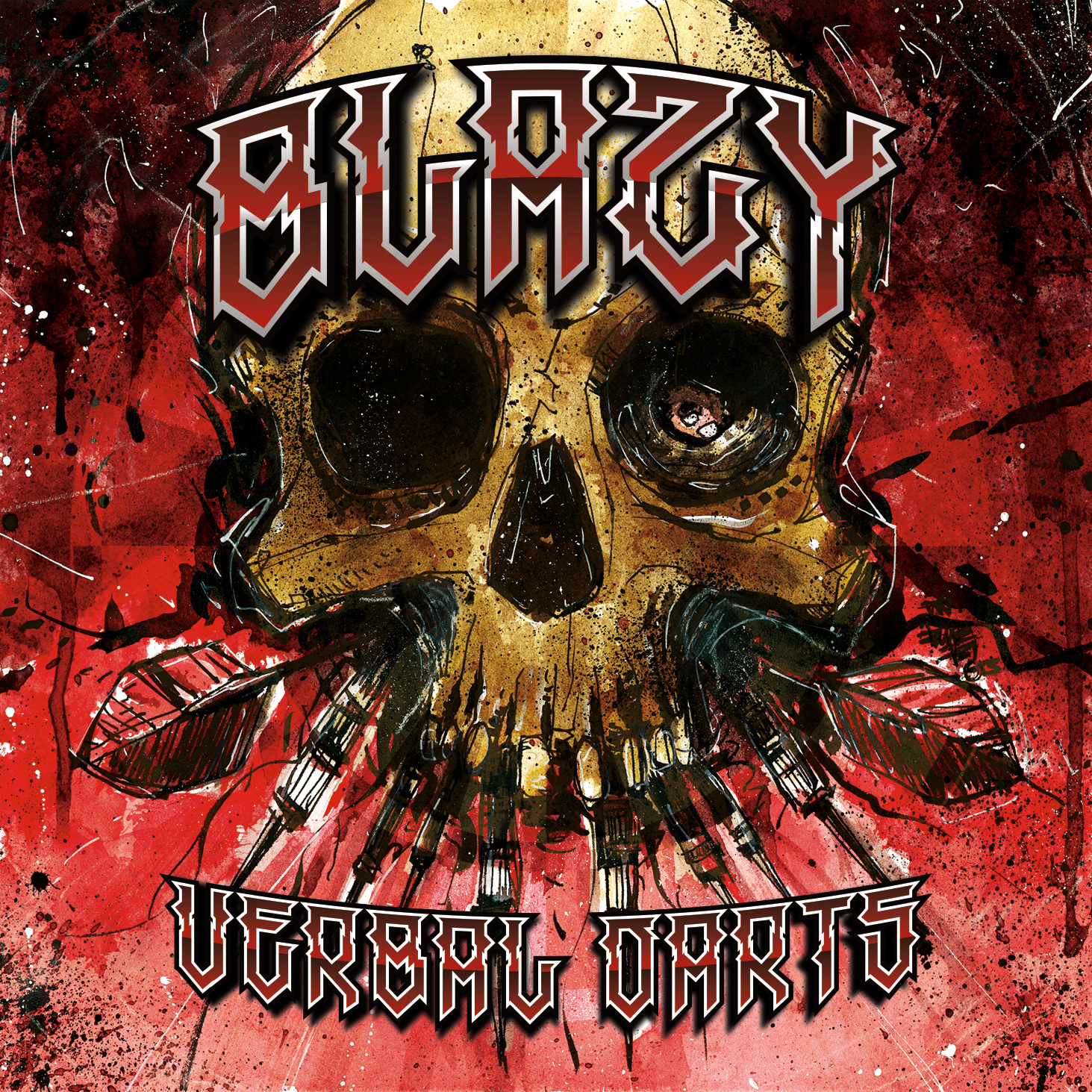 Over this passed summer while living in Phoenix, I was contacted by Ruler Why of the Texas hip hop collective, The Vultures. He asked me to create a cover for the release of a solo venture from one of the artists, Blazy. I was provided with some rudimentary images and layout from another designer they had and was asked to amp it up. Ruler Why gave me a lot of freedom in creating a concept from scratch which is always a blessing when doing custom work. I listened to some samples of Blazy's music that he sent me and wanted to provide a striking image that conveys the idea of the "
Verbal Darts" title as well. I sent him some sketches and got to painting.
I came up with an idea of creating a skull with darts spewing from the mouth and some sick lettering on top. Ruler Why was on board and I got started laying down some reds and browns. As  a lot of paintings of mine, I began the painting with a very loose sketch and began filling in the pieces woth color. I kept the palette simple and warm.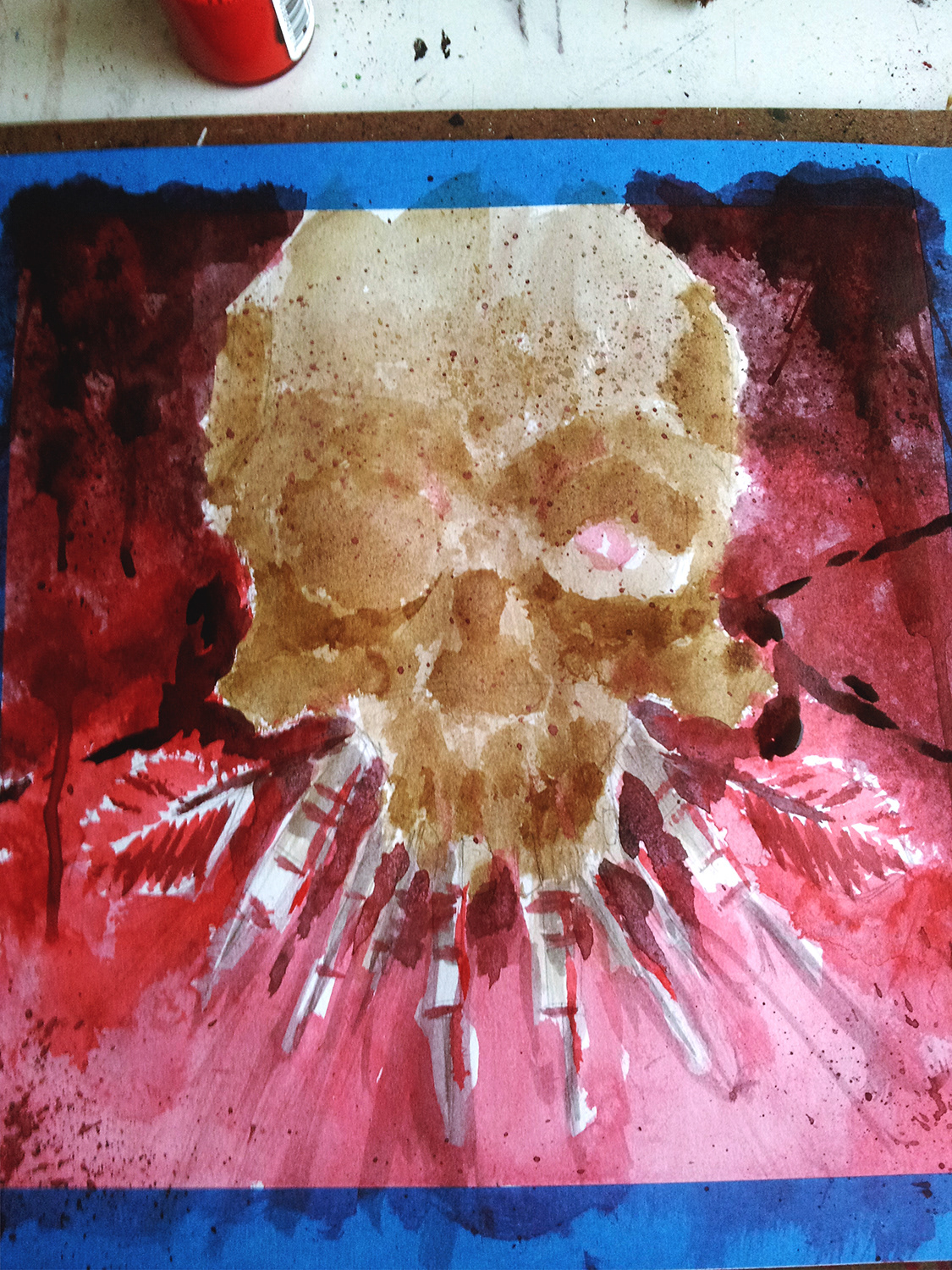 I laid in some shadows and a few more colors on the darts next to flesh out the skull and give it some depth. You know, after all these months, I wasn't sure why I left only one eye in the skull other than it looked more aesthetically pleasing to me at the time. In hindsight, I am recalling how often we see vultures yanking out eyeballs from animals and people in movies and televison. I guess that repetitive imagery made its way out of my subconscious and onto the page.
After laying down colors, I laid my blacks down and tightened up the painting with a little white. I got it scanned in and worked on pumping up the colors digitally as I knew this was going to go to print. It is very important to remember when using traditional means in the digital world to make such adjustments to give the finished piece a super-polished feel. Nothing too extreme, just give it that extra "oomph" so that it prints very well.
After pumping up colors, I had an idea to super-impose a transparent dartboard over the entire piece. I did so in Illustrator and Photoshop, keeping it light and erasing the lines over the skull itself so that it retains its power visually. I hit the net and bought a great font to use on this piece that fit perfectly. A few months after this project was done, Blazy himself contacted me and expressed his apprecitation and amazement on the cover. It was a great honor to hear this from the artist himself as well as the person who hired me.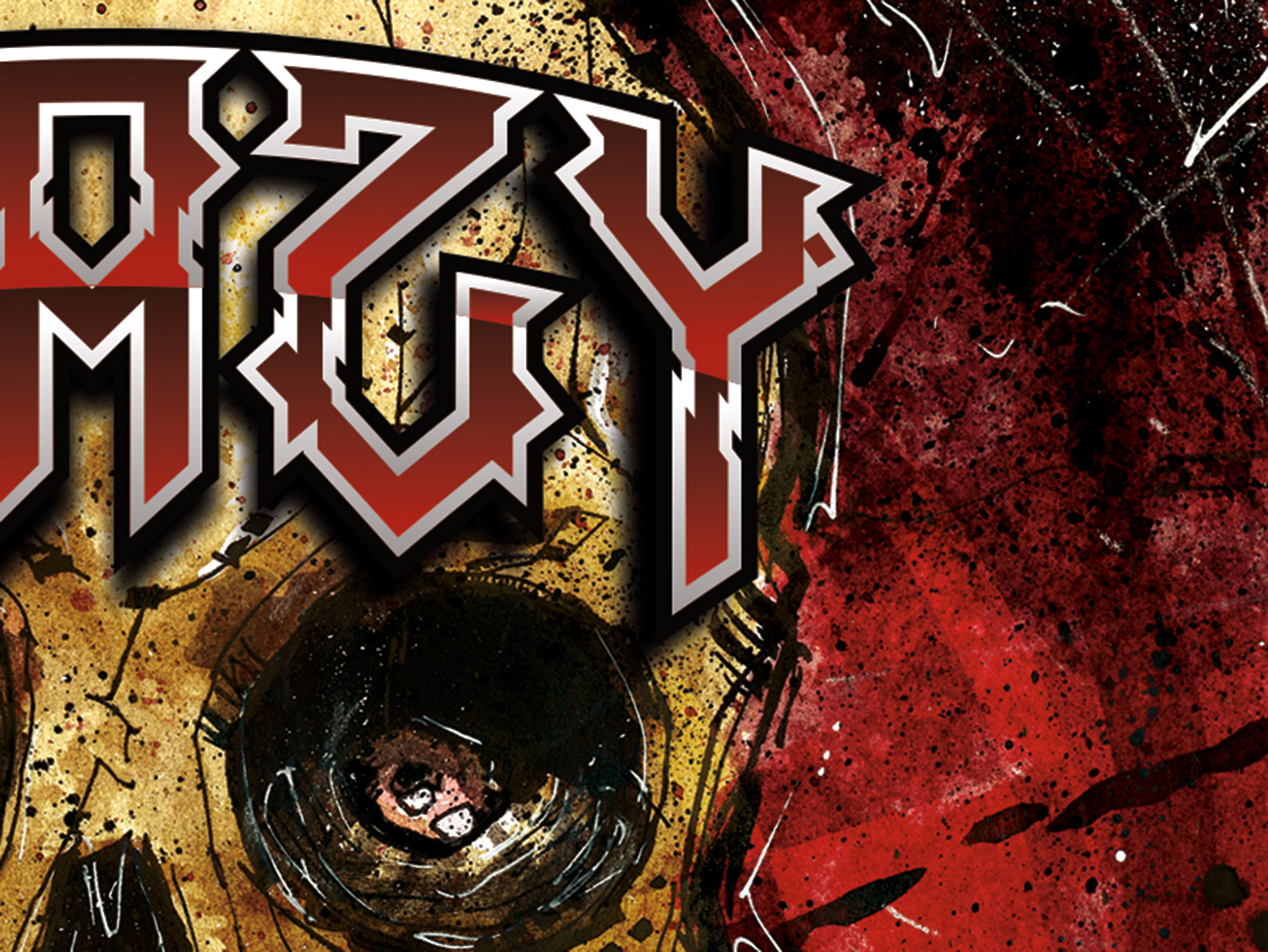 UPDATE:
Eventually I was contacted by Blazy to create the back and CD face as well. I initially had an idea to use a photo I shot of Blazy at a show but came up with this monotone color shceme of the cover with some red type and it fit much better.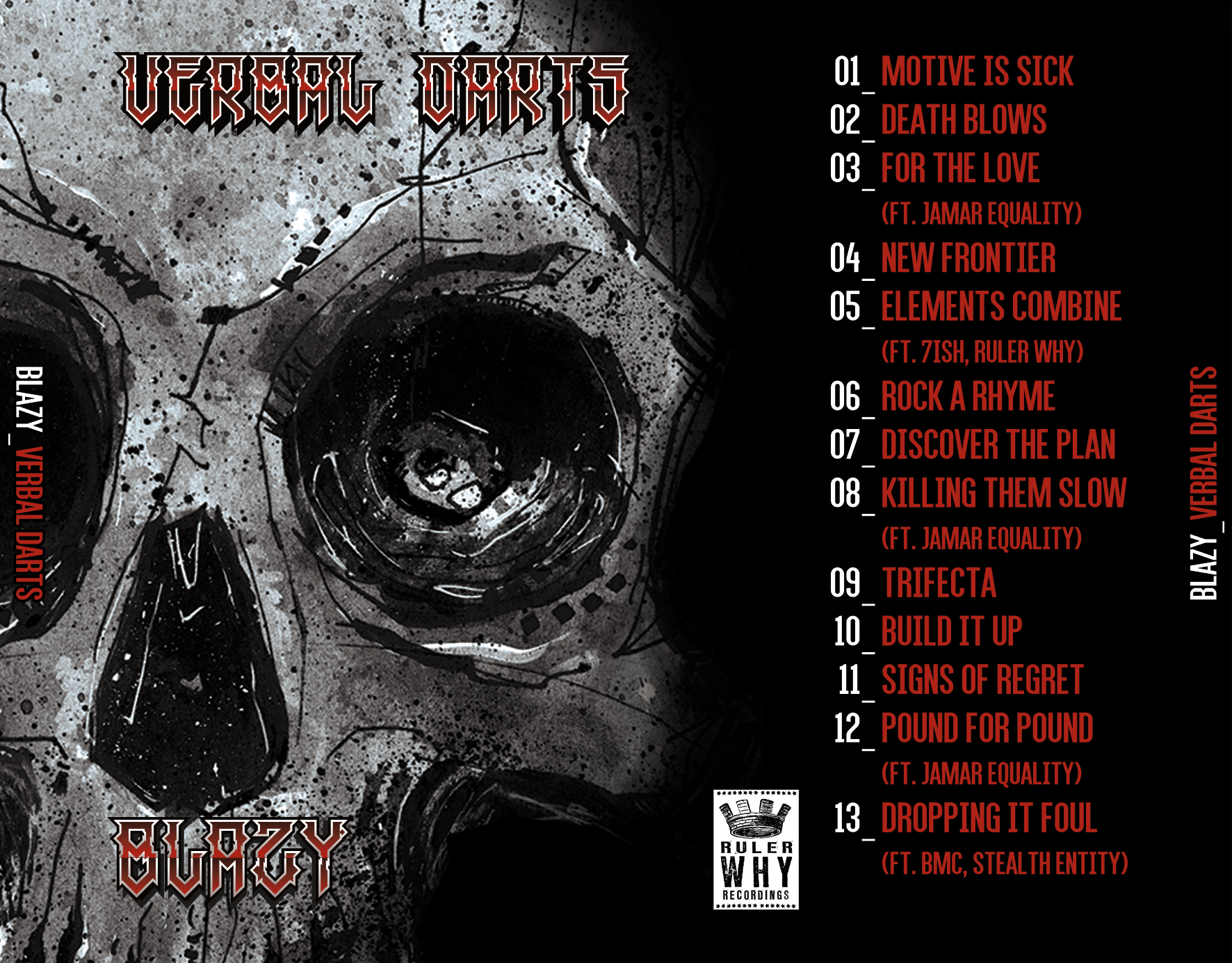 Eventually, it went to press and I couldn't be more excited. It's dope to physically hold your creations in comparison to just seeing them on-screen. I shot these in my home and posted the process on my SnapChat. Although the Story it is long gone, feel free to follow for more insight on my work and other fun antics.
Pick up Blazy's newest album

Verbal Darts

here.
For those of you interested in having some design work done for your band, business, or brand, please contact me @

blue73100@gmail.com

.