Packaging Label.
Helping LA-based cannabis edibles company Babinka Treats create new product labels.
Branding is my favorite part of graphic design. There's something very satisfying about helping someone carve out the look and feel of their products or services, ultimately enhancing the lifestyle and look of their brand. I've recently been taking on design duties for Babinka Treats after creating some fun characters based on different treats Babinka makes as a fun project to keep my illustration muscles strong. Babinka Treats is an LA-based, small batch bakery specializing in shatter-infused custom cakes, baked donuts, and other sweet treats. After the character project, Michelle (creator & owner of Babinka Treats) asked me to help her with a new package design. Since the recent legalization of recreational marijuana in several states there has been an influx of edibles in the market and Michelle wanted to update the look of her packaging to help her products stand out at dispensaries & events. She picked out the boxes and my task was to create a label within the box's dimensions that is fun and colorful like Babinka's products and Michelle's personality. This brand is very much an extension of herself so I wanted to be sure to create something that conveys her passion for this brand.
I created only a small handful of thumbnails before deciding to move straight to the computer after coming up relatively empty. My first approach was to make the label type-driven and colorful. Michelle gave me some rough color scheme ideas to work with as a guide and the rest was up to me. I felt the first design had more of an ice cream look and it was certainly missing something. We then discussed including the characters I created on each respective label. This seemed like a good approach until she became aware of new laws taking place to remove cartoon characters from packaging as these characters tend to market to children. While this is more likely aimed at unhealthy foods like sugary cereals, she felt it best to save a possible headache and try again.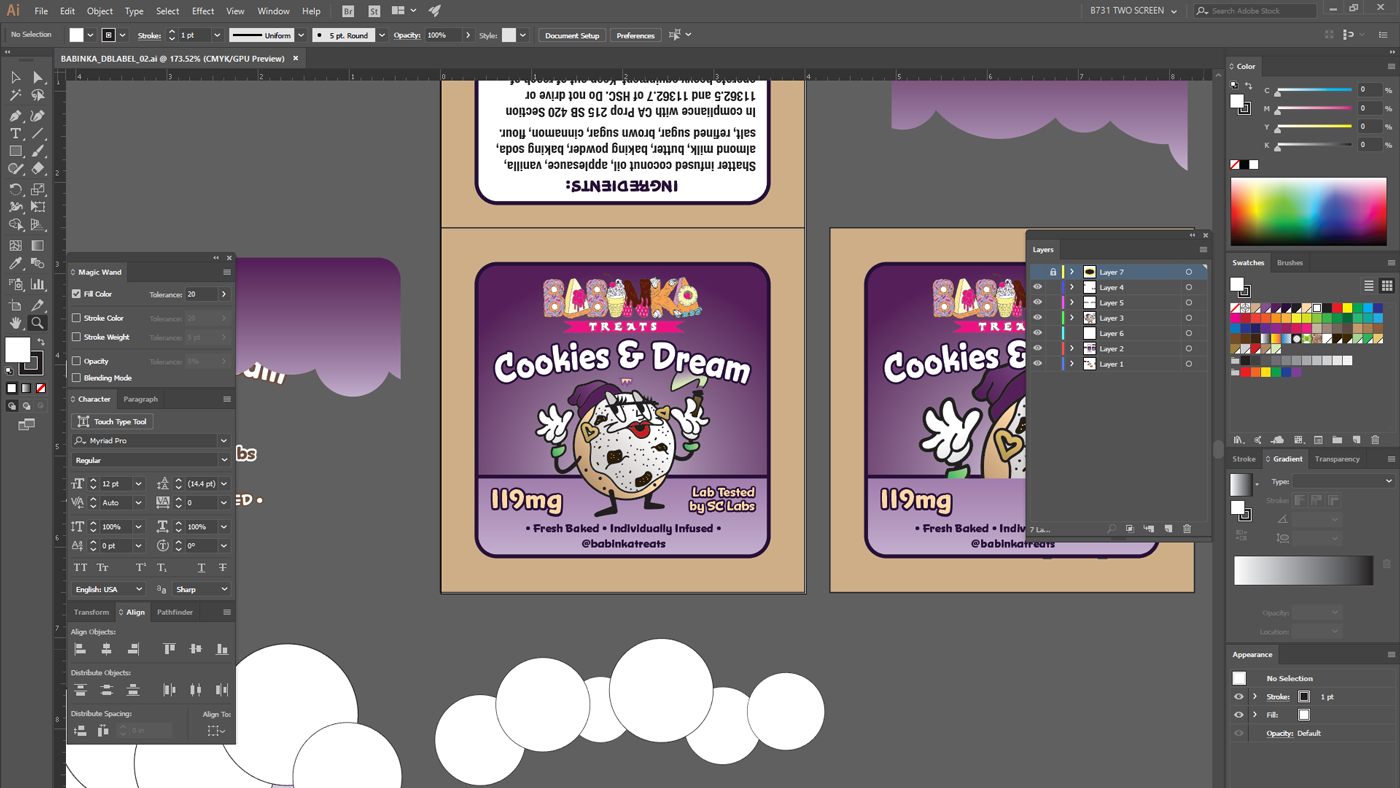 During this step including the characters, I had a quick idea to create a large donut to be in the background of the label. Often times I will have random ideas and I'll place them off to the side of my artboard for later. It doesn't cost you anything to set a ton of ideas in one file, so for me I often find it useful to have all my ideas in front of me at once. After nixing the character idea, I decided to create a donut and bring it to the forefront of the design. I liked where the type layout of the character label was going, so I explored that layout a bit more.
I created a donut icon that I could easily interchange colors and add different "toppings" as needed, helping the look retain consistency while still having some variety. I attempted a starburst background which then evolved into a patterned marijuana plant background. Michelle was stoked and I knew we found something solid. I made sure to include her as much as possible during these steps to keep her involved in the process. What I enjoy about branding is letting the client be part of the process to further ingrain themselves into the final piece that is an extension of them. While not every artist or client likes to work this way, I find it especially rewarding for both myself and the client when we can make that happen.
The rest of the design fell into place rather quickly after creating the icon. A few more color tweaks and we nailed a final design. There were five different labels all having their own unique charm and colors for each flavor while still remaining coherent and colorful collectively. The flavors and icons are bold and easily recognizable. Finished labels are now on every donut leaving her oven and being put into dispensaries across Los Angeles and San Francisco. I am sure this new look will push Babinka Treats into new markets and give her a boost in sales and appreciation of her products. They have been getting well received so far, I am excited to see where they go from here.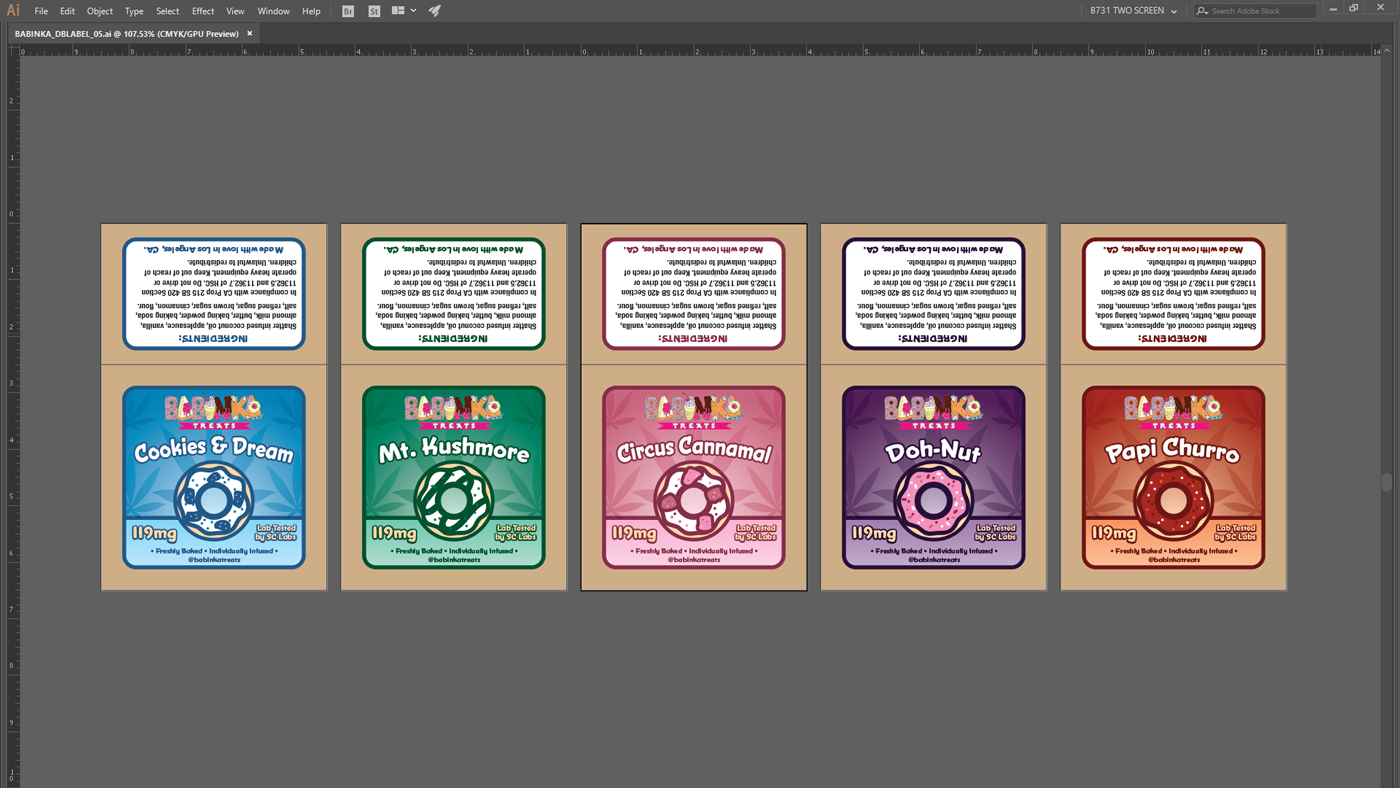 For those of you interested in having custom & innovative design work created for
your brand, business, band, etc., please contact me: